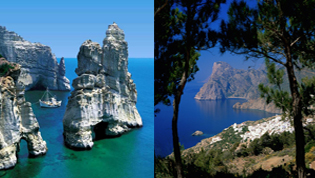 Greece is one of the oldest wine-producing regions in the world. The earliest evidence of Greek wine has been dated to 6,500 years ago where wine was produced on a household or communal basis. In ancient times, as trade in wine became extensive, it was transported from end to end of the Mediterranean; Greek wine had especially high prestige in Italy under the Roman Empire. In the medieval period, wines exported from Crete, Monemvasia and other Greek ports fetched high prices in northern Europe.
The origins of wine-making in Greece go back 6,500 years and evidence suggesting wine production confirm that Greece is home to the second oldest known grape wine remnants discovered in the world and the world's earliest evidence of crushed grapes. The spread of Greek civilization and their worship of Dionysus, the god of wine, spread Dionysian cults throughout the Mediterranean areas during the period of 1600 BC to the year 1. Hippocrates used wine for medicinal purposes and readily prescribed it. Greek wines and their varieties were well known and traded throughout the Mediterranean. The Ancient Greeks introduced vines such as Vitis vinifera and made wine in their numerous colonies in Italy, Sicily, southern France, and Spain. The Vitis vinifera grape which thrives in temperate climates near coastal areas with mild winters and dry summers adapted well and flourished in the Northern Mediterranean areas. The most reputable wines of ancient Greece were Chian, Coan, Corcyraean, Cretan, Euboean, Leucadian, Mendaean, Peparethan wine, Rhodian and Thasian. Two other names may or may not be regional: Bibline wine and Pramnian wine are named in the earliest Greek poetry, but without any reliable geographical details.
In recent years, the Greek wine industry has undergone enormous improvement with serious investments in modern wine making technology. The new generation of native winemakers is being trained in the best wine schools around the world and their efforts are paying off as Greek wines continue to receive the highest awards in international competitions as well as the recognition they deserve throughout the world.
What makes Greek wine so unique are the more than 300 indigenous grape varieties grown there, some of which have been cultivated since ancient times. Many of the world's best wine critics agree that the distinct flavors that come from these native grape varieties are a strong marketing advantage for the Greek wine industry. Many well-known international grape varieties are also used in Greek wine making. This extensive variety of grapes together with the moderate Greek climate, plentiful sunshine, low average rainfall and soils of moderate fertility combine to provide an excellent environment for the production of high quality wines.